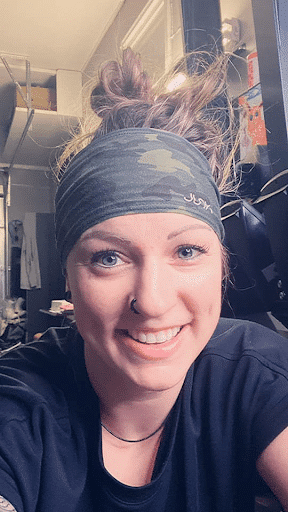 No… no I'm not.
Now, before you get mad at me – don't get me wrong, I'm sure some of them are amazing!
But, I also am sure that some of them have no background in health and fitness, nutrition, sustainable fat loss, women's hormones or any of that. They are just trying to sell you to make money from the product or to get their bs product cheaper.
And I know this because I was using and used to sell a meal replacement shake product when I was trying to lose weight for my wedding. I also know this because of some of the claims I've read and the messages I've received from their coaches.
Notice above, I said lose weight, not lose fat. I said that on purpose.
Because at that point, all that mattered to me was the number on the scale getting smaller each morning. There was no education. It was just magic 🤷‍♀️ (I know now it was a really extreme calorie deficit that ruined my relationship with food even more, ruined my metabolism and set me up for a huge rebound when I couldn't stand to starve myself anymore after the wedding).
My body composition – DIDN'T MATTER
My gut health – NOPE
My mindset and happiness – NEGATIVE
My hormones – WHO CARES
AND THEN
After I got married, had kids, gained back all the weight and a whole lot more… Then I got educated.
I took my personal training certificate. I worked one on one in a gym with women for years helping them transform inside and out. I studied sports nutrition. I studied women's hormones, systemic inflammation, autoimmune disorders.I continue to educate myself daily through my studies and through my clients on what works and what women need.
And now- Now I have my own online business, Evolve Health & Fitness Coaching, where I help thousands of ladies to transform and offer support daily.
I run a one on one coaching program called the 𝗘𝘃𝗼𝗹𝘃𝗲𝗱 𝗠𝗲𝘁𝗵𝗼𝗱 for those who are ready to get serious about their health and fitness and take it to the next level. I offer 24/7 support to my clients and educate them on nutrition and physical activity, so they never need another coach again.
I also run the 👑 𝗕𝗮𝗱𝗮𝘀𝘀 𝗕𝗮𝗯𝗲 𝗦𝗾𝘂𝗮𝗱, and the cool thing about this program that I really strive for is EDUCATION & OPTIONS.
Because some people like working out from an app, some people like working out live with a coach, and some people like to do a video replay.
Plus, coaches that come with it, that truly care about everyone's journey. This isn't just a workout DVD or YouTube video and you're on your own. We gotchu. 😉
And as if THAT wasn't enough – the super cool part is the community of like minded Queens getting it done and supporting each other.
These programs are for women who have 'tried it all' are frustrated or are just ready to finally change their lifestyle for good.
In a field of flowers, each flower adds to the other ones beauty. They can all bloom together 🌺 🌸 🌹
👑 I LOVE THIS MOVEMENT ♥️