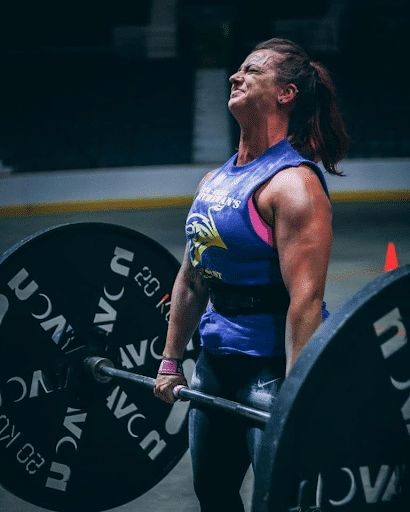 𝙄𝙣𝙘𝙤𝙧𝙥𝙤𝙧𝙖𝙩𝙞𝙣𝙜 𝙃𝙤𝙡𝙞𝙙𝙖𝙮𝙨 𝙄𝙣𝙩𝙤 𝙔𝙤𝙪𝙧 𝙃𝙚𝙖𝙡𝙩𝙝𝙮 𝙇𝙞𝙛𝙚𝙨𝙩𝙮𝙡𝙚 𝘿𝙤𝙚𝙨𝙣'𝙩 𝙃𝙖𝙫𝙚 𝙏𝙤 𝘽𝙚 𝘼𝙡𝙡 𝙊𝙧 𝙉𝙤𝙩𝙝𝙞𝙣𝙜.
Happy Friday Y'all! The weekend is coming in hot. We also have a holiday this weekend!
What's 𝘺𝘰𝘶𝘳 𝘱𝘭𝘢𝘯 𝘰𝘧 𝘢𝘵𝘵𝘢𝘤𝘬 𝘵𝘰 𝘴𝘵𝘢𝘺 '𝘰𝘯 𝘵𝘩𝘦 𝘸𝘢𝘨𝘰𝘯'?
A client asked this question at our Q&A last Wednesday, and I'm going to share my top tips with you all.
⭐️ 𝗣𝗼𝗿𝘁𝗶𝗼𝗻 𝗦𝗶𝘇𝗲𝘀 ⭐️
Enjoy the special things you only get once a year, but don't go overboard. Portion control is key so you don't feel restricted. Enjoy those things but don't overdo it.
⭐️ 𝗣𝗿𝗶𝗼𝗿𝗶𝘁𝗶𝘇𝗲 𝗣𝗿𝗼𝘁𝗲𝗶𝗻 ⭐️
If you're doing a supper meal, during the rest of your day, try to get more protein in so that you have a good chance of hitting your protein goal. And for the meal, load up on some lean protein also!
⭐️ 𝗛𝗮𝘃𝗲 𝗔 𝗣𝗹𝗮𝗻 ⭐️
Plan the rest of your day around that outing! So if you're going for supper, plan the rest of your day out using these strategies.
⭐️ 𝗕𝗿𝗶𝗻𝗴 𝗦𝗼𝗺𝘁𝗵𝗶𝗻𝗴! ⭐️
If you're stressing that there won't be a salad you can enjoy, offer to bring something. Don't be afraid to ask if one is on the menu ahead of time. A sneaky way to do this is just ask why is on the menu as you want to bring something that will compliment the meal.
🌟 𝗗𝗼𝗻'𝘁 𝗚𝗼 𝗦𝗧𝗔𝗥𝗩𝗜𝗡𝗚 🌟
Bad idea. It's like going to the grocery store hungry and coming home with a cart full of bad choices because your hunger and cravings told you it was a good idea. Eat something before you go (prioritize protein).
⭐️ 𝗦𝘁𝗮𝘆 𝗔𝘄𝗮𝘆 𝗙𝗿𝗼𝗺 𝗧𝗵𝗲 𝗦𝗻𝗮𝗰𝗸 𝗧𝗮𝗯𝗹𝗲 𝗼𝗿 𝗕𝗮𝗿 ⭐️
The more you sit there, the more you will pick away at what there and everything adds up quickly! So limit your exposure 😂 and sit somewhere else.
🌟 𝗘𝗻𝗷𝗼𝘆 𝗧𝗵𝗲 𝗣𝗲𝗼𝗽𝗹𝗲 🌟
This pandemic has really limited our contact with our family and friends. So take the time to make it about the connections with people more than making it about what you're going to get to eat. Be present ❤
ℍ𝕠𝕡𝕖 𝕋𝕙𝕖𝕤𝕖 ℍ𝕖𝕝𝕡! ℍ𝕒𝕡𝕡𝕪 𝔼𝕒𝕤𝕥𝕖𝕣!
♥️ Coach Xtine