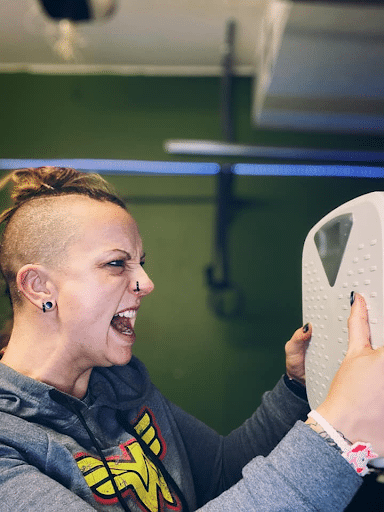 Feeling Frustrated? Check This Out!
These are my top reasons/mindset blocks I see with my clients when it comes to fat loss and health. 
𝙔𝙤𝙪 𝙖𝙧𝙚 𝙘𝙤𝙢𝙥𝙖𝙧𝙞𝙣𝙜 𝙮𝙤𝙪𝙧𝙨𝙚𝙡𝙛 𝙩𝙤 𝙤𝙩𝙝𝙚𝙧𝙨. Comparison is the thief of joy and the fastest way to feel like a failure. 
2. 𝗬𝗼𝘂 𝗮𝗿𝗲 𝗽𝘂𝘁𝘁𝗶𝗻𝗴 𝗶𝗻 𝟱𝟬% 𝗲𝗳𝗳𝗼𝗿𝘁 𝗮𝗻𝗱 𝗲𝘅𝗽𝗲𝗰𝘁𝗶𝗻𝗴 𝟭𝟬𝟬% 𝗿𝗲𝘀𝘂𝗹𝘁𝘀.
That ones pretty simple. You get out what you put in. Direct relation.
3. 𝗬𝗼𝘂 𝗵𝗮𝘃𝗲 𝗮𝗻 𝘂𝗻𝗿𝗲𝗮𝗹𝗶𝘀𝘁𝗶𝗰 𝗲𝘅𝗽𝗲𝗰𝘁𝗮𝘁𝗶𝗼𝗻𝘀 𝗼𝗳 𝘁𝗵𝗲 𝗿𝗲𝘀𝘂𝗹𝘁𝘀 𝘆𝗼𝘂 𝘀𝗵𝗼𝘂𝗹𝗱 𝗯𝗲 𝗴𝗲𝘁𝘁𝗶𝗻𝗴.
It's not your fault though, really. That's how society and diet culture is set up. They use fad diets and glamorize it and make it seem like losing 10lbs in 7 days should be no big deal. The next time I hear someone say they 'only' lost 1lb this week… I'm gonna talk some sense into them!
4. 𝗬𝗼𝘂'𝗿𝗲 𝗼𝗯𝘀𝗲𝘀𝘀𝗲𝗱 𝘄𝗶𝘁𝗵 𝘁𝗵𝗲 𝘀𝗰𝗮𝗹𝗲 𝗮𝗻𝗱 𝗶𝗴𝗻𝗼𝗿𝗶𝗻𝗴 𝗮𝗹𝗹 𝘁𝗵𝗲 𝗼𝘁𝗵𝗲𝗿 𝘄𝗶𝗻𝘀!
Like more energy, drinking more water, just eating better food, living a healthier lifestyle and laying the foundation for success.
5. 𝗬𝗼𝘂 𝗵𝗮𝘃𝗲 𝗻𝗼 𝗰𝗹𝘂𝗲 𝘄𝗵𝗮𝘁 𝘆𝗼𝘂 𝗮𝗿𝗲 𝗽𝘂𝘁𝘁𝗶𝗻𝗴 𝗶𝗻𝘁𝗼 𝘆𝗼𝘂𝗿 𝗯𝗼𝗱𝘆. 
You don't actually track your calories and are not in the calorie deficit you think you are. Eyeballing is not going to work if you have no idea what you are eyeballing.
The next time you feel yourself getting frustrated, get brutally honest with yourself and double check that these things aren't happening before you get upset!