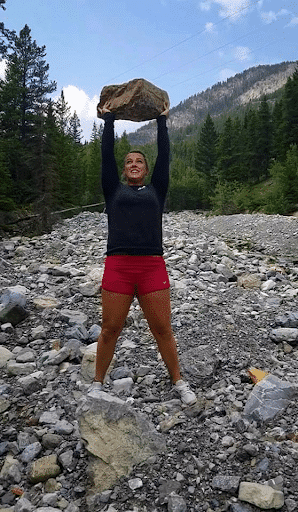 𝑀𝑒𝑒𝑡 𝐹𝑎𝑟𝑚𝑒𝑟 𝐽𝑎𝑛𝑒.
Farmer Jane wants to grow a vegetable garden for the first time in her life.
If Farmer Jane tells her friends she wants to plan this garden and they say 'Are you sure? You've never planted a garden. You can't do it'…
If Farmer Jane tells her friends she wants to plan this garden and they say 'I tried planting a garden once and nothing grew'…
If Farmer Jane let her friends tell her a garden takes too much time…
If Farmer Jane let the investment of planting a garden stop her…
If Farmer Jane listened to her friends telling her it's too hard to grow a garden…
If Farmer Jane let the fact that she had never planted a garden before stop her..
If Farmer Jane would have listened to any of that, she wouldn't have planted the garden to begin with, and Farmer Jane would not have the beautiful garden.
𝑌𝑜𝑢 𝑠𝑒𝑒, 𝑖𝑓 𝐹𝑎𝑟𝑚𝑒𝑟 𝐽𝑎𝑛𝑒 𝑑𝑖𝑑𝑛'𝑡 𝑒𝑣𝑒𝑛 𝑏𝑒𝑙𝑖𝑒𝑣𝑒 𝑖𝑛 𝑡ℎ𝑒 𝑝𝑜𝑠𝑠𝑖𝑏𝑖𝑙𝑖𝑡𝑦 𝑡ℎ𝑎𝑡 𝑝𝑙𝑎𝑛𝑡𝑖𝑛𝑔 𝑠𝑜𝑚𝑒 𝑠𝑒𝑒𝑑𝑠 𝑐𝑜𝑢𝑙𝑑 𝑝𝑟𝑜𝑑𝑢𝑐𝑒 𝑎 𝑏𝑒𝑎𝑢𝑡𝑖𝑓𝑢𝑙 𝑔𝑎𝑟𝑑𝑒𝑛, 𝑠ℎ𝑒 𝑤𝑜𝑢𝑙𝑑𝑛'𝑡 ℎ𝑎𝑣𝑒 𝑝𝑙𝑎𝑛𝑡𝑒𝑑 𝑡ℎ𝑒𝑚.
Kill the "I can't" Attitude.
You CAN do it.
If someone has done it before, the. That is just even more proof that it can be done.
When someone says, "I can't do it" . . . I say to myself, "What do you mean you can't do it?" Maybe you don't want to do it, or maybe you are scared, but saying you "can't" do it is a completely different story.
With the right mindset, positive attitude, and a clear vision of what you want to accomplish, the only thing that is holding you back is yourself.
Your mindset is a limiting belief. Can't is a terrible word and it has to be taken out of your vocabulary.
By saying you can't do something, you're already doubting yourself, submitting to defeat, and you're making that barrier around your life tighter.
So today, right now, we are going to remove this word for good.
From now on there is nothing we can't do.
Believe You Can Do It!
Do you know why most people say "can't" and doubt themselves before trying anything?
It's our lack of self-confidence and fear on many different levels. The one thing we have to purge from ourselves is fear — fear of bad results, fear of change, fear of denial, fear of loss, fear of our friends judging us, the fear that makes us worry and lose sleep.
𝑊𝑜𝑟𝑟𝑦𝑖𝑛𝑔 𝑎𝑛𝑑 𝑜𝑣𝑒𝑟𝑡ℎ𝑖𝑛𝑘𝑖𝑛𝑔 𝑖𝑠 𝑡ℎ𝑒 𝑠𝑎𝑚𝑒 𝑎𝑠 𝑔𝑜𝑖𝑛𝑔 𝑜𝑢𝑡𝑠𝑖𝑑𝑒 𝑤𝑖𝑡ℎ 𝑎𝑛 𝑢𝑚𝑏𝑟𝑒𝑙𝑙𝑎, 𝑗𝑢𝑠𝑡 𝑤𝑎𝑖𝑡𝑖𝑛𝑔 𝑓𝑜𝑟 𝑟𝑎𝑖𝑛 𝑡𝑜 ℎ𝑖𝑡 𝑖𝑡 𝑤𝑖𝑡ℎ 𝑛𝑜 𝑠𝑖𝑔𝑛 𝑜𝑓 𝑎 𝑠𝑡𝑜𝑟𝑚.
Stop worrying and move on. We must build CONFIDENCE.
Confidence is fragile: it builds up slowly, & can shatter like glass under the words of someone else or even our own limiting thoughts and beliefs.
𝗣𝗿𝗼𝗷𝗲𝗰𝘁 𝘆𝗼𝘂𝗿 𝗰𝗼𝗻𝗳𝗶𝗱𝗲𝗻𝗰𝗲 𝗮𝗻𝗱 𝗲𝗻𝗲𝗿𝗴𝘆 𝗶𝗻𝘁𝗼 𝗯𝗲𝗹𝗶𝗲𝘃𝗶𝗻𝗴 𝗶𝗻 𝘆𝗼𝘂𝗿𝘀𝗲𝗹𝗳.
This is a very important and groundbreaking step — one that is usually the hardest to take. Start telling yourself you CAN do something, anything, and you will do it the best to your ability.
Remove doubt, remove fear, and stick with positive energy.
You know what you must do. The first step is right now. Plant the seed and believe in the possibility that you can grow a beautiful garden.
Once you begin this habit, and really start noticing some change, you'll realize the door to opportunity is everywhere.
The funny thing is: those doors have always been there. The evil word that we no longer use has put a veil over our eyes because that's how powerful that word is.
𝘽𝙚𝙡𝙞𝙚𝙫𝙚 𝙞𝙣 𝙩𝙝𝙚 𝙥𝙤𝙨𝙨𝙞𝙗𝙞𝙡𝙞𝙩𝙮 𝙩𝙝𝙖𝙩 𝙮𝙤𝙪 𝙘𝙖𝙣 𝙥𝙡𝙖𝙣𝙩 𝙖 𝙨𝙚𝙚𝙙, 𝙬𝙖𝙩𝙚𝙧 𝙞𝙩, 𝙬𝙚𝙚𝙙 𝙞𝙩, 𝙡𝙤𝙫𝙚 𝙞𝙩, 𝙖𝙣𝙙 𝙮𝙤𝙪 𝙘𝙖𝙣 𝙜𝙧𝙤𝙬 𝙖 𝙗𝙚𝙖𝙪𝙩𝙞𝙛𝙪𝙡 𝙜𝙖𝙧𝙙𝙚𝙣.