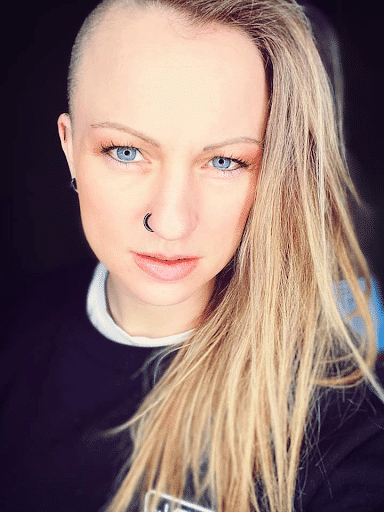 I am a fierce, ambitious, powerful woman.
I used to be afraid to say that.  I used to think it would come off as cocky. I used to not want to draw attention to myself. 𝘐 𝘶𝘴𝘦𝘥 𝘵𝘰 𝘵𝘩𝘪𝘯𝘬 𝘐 𝘴𝘩𝘰𝘶𝘭𝘥 𝘱𝘭𝘢𝘺 𝘴𝘮𝘢𝘭𝘭 𝘢𝘯𝘥 𝘴𝘵𝘢𝘺 𝘪𝘯 𝘮𝘺 𝘭𝘢𝘯𝘦. 
I used to feel awkward selling someone into my program. . . But when you think about it – everything in life starts with a sale of some sort.
And I KNOW my program teaches ladies to be HAPPY HEALTHY & CONFIDENT without starving themselves and hating their lives – it works. 𝗜𝘁 𝗰𝗵𝗮𝗻𝗴𝗲𝘀 𝗹𝗶𝘃𝗲𝘀.
So, why should I feel awkward? I didn't even realize my awkwardness about it until a couple months ago.
I love to meet new people, see where they are struggling, help if I can, but also take the knowledge to build my content and keep my program relevant to serve and consistently give value to my clients. I was in a conversation with a girl on social media chatting about health and fitness. When I asked her where she was struggling she replied 'I don't need a coach'.
I found later she proceeded to screenshot our conversation and post it on her social media saying '𝘚𝘪𝘴 𝘸𝘢𝘴 𝘫𝘶𝘴𝘵 𝘨𝘦𝘵𝘵𝘪𝘯𝘨 𝘩𝘦𝘳 𝘱𝘪𝘵𝘤𝘩 𝘳𝘦𝘢𝘥𝘺!'
♥️A few months ago this would have bothered me and I would have questioned everything I was doing because of the actions of ONE stranger. Instead of being confident in my knowledge and good intentions to serve others, instead of being confident that I was changing lives by the results of the HUNDREDS of ladies I coach daily, I would have let the words of ONE STRANGER make me question everything I was building.
I then did some reflecting and thought about what was the truth (and what wasn't). What WAS the truth? – This stranger had probably been sent one too many copy and paste 'salesy' buy my miracle cream, fad diet messages and it was a reflection of her thoughts and not my intentions.
The way I look at it, I know 100% WITHOUT A DOUBT, Evolve Coaching & the Badass Babe Squad and the knowledge, support and accountability you get will transform not just your body, but your whole life! 
The way I now look at it – If I see a woman struggling, and I don't sell her into my program, I will be doing her an injustice. Because I know my program works. And I know I can help her to change her life.
👀 I also know if I don't get her into my program, she might attempt another fad diet, cut out a food group, try a skinny tea or miracle pill or cream, because it seems so easy in the magazines…. then fail again, and that might have been her last attempt.
And I am no longer afraid to make that statement out loud! As of lately, my lane is the fast lane 🚗 💨
𝙄 𝙬𝙖𝙣𝙩 𝙩𝙤 𝙝𝙖𝙫𝙚 𝙖𝙣 𝙄𝙈𝙋𝘼𝘾𝙏.
🌎 I want to make a difference.
🛑I will no longer play small
🛑I will no longer sit quietly on the sidelines.
🛑I will no longer let the comments of a total stranger make me start to question my integrity or my mission.
👑 𝗜 𝗮𝗺 𝗮 𝗳𝗶𝗲𝗿𝗰𝗲, 𝗮𝗺𝗯𝗶𝘁𝗶𝗼𝘂𝘀, 𝗽𝗼𝘄𝗲𝗿𝗳𝘂𝗹 𝗳𝗲𝗺𝗮𝗹𝗲.
💃 And I am here to level up the women's health and fitness industry.
Happy International Women's Day Babes!
-Coach